TOEFL Private Tutoring in Osaka (Japan)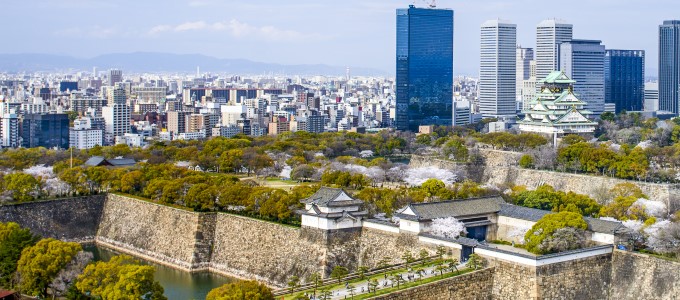 Osaka students can meet or exceed the Test of English as a Foreign Language (TOEFL) requirements of their graduate or undergraduate degree offerings with Manhattan Review's test prep services. TOEFL learning formats available in Osaka include one-on-one TOEFL tutoring, on-site TOEFL group courses, and TOEFL online instruction. We are also Osaka's top TOEFL practice test resource, and our practice assessments duplicate the content, structure, and timing of the official exam. Manhattan Review is a global test prep company that has directly facilitated highly favorable learning outcomes for tens of thousands of students in Osaka and other major Asian, European, North American, African, and South American cities. Founded in 1999, our company is known throughout the industry for the originality of our approach to TOEFL instruction and the quality of our service to international students, who make up the majority of our clientele. Contact Manhattan Review in Osaka today, and let us help you decide which of our TOEFL programs best fits your goals, needs, and learning style.
Manhattan Review's TOEFL learning plans regularly lead to selective university admission. Among the top schools to which our TOEFL clients have been accepted are the University of Oxford, Harvard, the University of Cambridge, Stanford, Princeton, the California Institute of Technology, the Massachusetts Institute of Technology, University College London, the London School of Economics, the University of Pennsylvania, Johns Hopkins, Australian National University, the University of Toronto, McGill University, the University of Virginia, and the University of California-Berkeley (this is by no means an exhaustive list). Manhattan Review's past TOEFL students in Osaka and other cities have consistently demonstrated that they have the language skills necessary to enter the professional world. Some of our TOEFL alumni have secured jobs at Fortune 500 companies, such as New York Life Insurance, CVS Health, Archer Daniels Midland, Dow Chemical, and Walgreens Boots Alliance. Others are now vital members of Osaka's business community with jobs at Takenaka Corporation, Hankyu Hanshin Holdings, Nippon Life Insurance Company, Panasonic, and Kintetsu Group Holdings.
The TOEFL is a respected language assessment because it requires test-takers to prove that they can communicate in the English language. Effective communication is about synthesizing language skills, and students must prove that they have this ability in order to receive high TOEFL scores. Although the TOEFL does have individual sections devoted to reading, writing, speaking, and listening, all sections include exercises that force students to use abilities from at least two of these areas. Manhattan Review's TOEFL instruction emphasizes TOEFL test content, but we also devote ample time to the mastery of TOEFL study techniques and TOEFL testing strategies, ensuring that our TOEFL clients have broadly based preparation for all of the exam's challenges. By investing their time and money in Manhattan Review's TOEFL prep courses or TOEFL private tutoring, students are ultimately saving themselves a great deal of both by avoiding expensive remedial language requirements or rejected admission, each of which can result from poor TOEFL performance.
TOEFL Private Tutoring
Hours package 12 to 48 hours, Personalized 1-on-1 Tutoring, In Person or Live Online
TOEFL Private Course
12 hours in total, Personalized 1-on-1 Course, In Person or Live Online

My classes with Mr. Scheno were perfect to prepare for the actual TOEFL test – I can give my total recommendation for attending his classes. During our first appopintment he analyzed my strengths and weaknesses to set up my personal course syllabus. These customized classes improved my writing, speaking, reading and listening abilities a lot and raised my confidence to succeed the TOEFL test, which I in fact succeeded. At any time, Mr. Scheno responded rapidly and accurately to my questions and was available even beyond classes. It was a great and successfull experience to work with Mr. Scheno. Many thanks!
- Mirco (This student took TOEFL tutoring)
Osaka
Primary Course Venue:

Hilton Osaka
1 Chome-8-8 Umeda, Kita-ku
Ōsaka-shi, Ōsaka-fu 530-0001, Japan

Phone: +81-3-4589-5125

NOTE: We do NOT typically have staff at the venue, so email us before visiting the venue.
Meet an Osaka TOEFL Tutor: Steve S.
Steve S., who is originally from Norfolk, Virginia, is one of the leaders of our Osaka TOEFL teaching staff. He has been teaching TOEFL courses and private tutoring sessions for more than 15 years in the United States and in Japan. His TOEFL instruction has helped produce high TOEFL scores for students from over 60 countries and more than 30 native languages.
Steve was educated at the University of Virginia (bachelor's degree in political science), Boston University (master of arts in teaching), and the City University of New York (TESOL certificate). He is a fluent speaker of German and French, and he has taught both of those languages at the secondary level. When he's not working, Steve is an athlete and sports fan (his favorite sport is baseball).